DSR and SO-CAL Speed Shop's '32 Ford Makes Remarkable SEMA Debut
Detroit (Nov. 12, 2012) — Detroit Street Rods, LLC, the premier hot rod builder that brought you the officially license, limited edition "75th Anniversary Deuce" '32 Ford, has done it again. In collaboration with the famed SO-CAL Speed Shop, they have designed, fabricated, and assembled the much-anticipated "Coyote 5.0" that commemorates the 80th Anniversary of the iconic 1932 Ford Roadster. Debuted at the 2012 SEMA Show in Las Vegas earlier this month, this is the first vehicle in a limited-edition series of hot rods that won a coveted Ford Motor Company "Special Recognition Award for Outstanding Design Achievement".
Nicknamed the "Coyote 5.0," this SO-CAL Speed Shop '32 Roadster features a Ford Racing Performance Parts supercharged Coyote 5.0L crate engine, a Tremec T-56 Magnum 6-speed manual transmission, SO-CAL Speed Shop New Traditionalist chassis, showcasing their new line of forged steel chassis components, a Dearborn Deuce all-steel body, and is coated in a paint treatment that is reminiscent of the original 1948 SO-CAL Speed Shop Belly Tanker land speed car's paint scheme.
The series of limited-edition Coyote 5.0 models will be produced to recognize SO-CAL Speed Shop's founder, Alex Xydias who celebrated his 90th birthday this year, and the company's historic legacy as a leader in hot rod building and racing on the drag strips and lake beds of Southern California, as well as the famed Salt Flats of Bonneville, UT. Mr. Xydias was on hand at SEMA and signed the Coyote 5.0's firewall along with Ford Motor Company Board Member and the proclaimed "Godfather" of Ford Racing Edsel B. Ford II, SO-CAL Speed Shop's President Pete Chapouris, ZZ Top's Billy F Gibbons, and Detroit Street Rods President and Co-Founder Robert Smith.
The first serial numbered Coyote 5.0 was purchased by Richard Varner, co-owner of Champions Moto, and subsequent models of the limited edition series can be ordered through SO-CAL Speed Shop's U.S. and Canadian dealers or directly through Detroit Street Rods. But act fast - only 25 are being licensed for the initial production run of these highly coveted – Special Edition SO-CAL 1932 Roadsters. Fans and potential buyers can check out the complete build of the Coyote 5.0 on So-Cal Speed Shop's Facebook page: http://www.facebook.com/pages/SO-CAL-Speed-Shop-Pomona
"The collaboration of SO-CAL Speed Shop and Detroit Street Rods on this project was inevitable. By combining the talents of both organizations, we have been able to produce one on the finest editions of the '32 Ford available today for serious collectors that want the exclusiveness of a SO-CAL hot rod and the functionality of a modern Ford Racing modular powertrain," said Robert Smith, President and co-founder of Detroit Street Rods. "Mr. Xydias and Mr. Chapouris are class acts and living legends in the world of hot rodding and I couldn't ask for a better team with whom to work on this exciting project."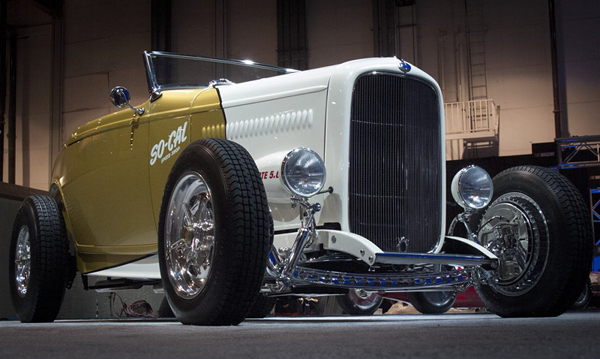 About Detroit Street Rods
Best known for their modern interpretation of the '32 Ford known as the "75th Anniversary Deuce", Detroit Street Rods manufactures high quality component street rods, utilizing superior materials, state-of-the-art technology and craftsmanship in an original equipment manufacturer production line assembly environment. Co-founder and President Robert Smith was born in Detroit, raised in the suburbs, and spent his early automotive career focused on drag racing and performance cars and is now the guiding spirit of the company that is dedicated to producing specialized and custom built hot rods and performance vehicles. www.detroitstreetrods.com
About SO-CAL Speed Shop
On March 3, 1946, the day of his military discharge, - - using money borrowed from his mom, Alex Xydias opened the first So-Cal Speed Shop on Olive Avenue in Burbank, CA. Alex's popular So-Cal Speed Shop racing team set numerous records at the salt flats in Bonneville, UT and at the NHRA drags well into the 1950's. Meanwhile across town, another California kid was bitten with the hot rod bug. Pete Chapouris started building hot rods in his backyard around 1957 and in 1973 he co-founded Pete & Jakes Hot Rod Parts. Alex and Pete shared much of the same dreams and little did these young men know their paths were destined to cross. Both Alex and Pete had been working behind the scenes to resurrect the famed So-Cal Speed Shop and on November 21, 1997 the SO-CAL Speed Shop began yet another chapter in this on-going element of hot rod history. www.SO-CALspeedshop.com